To keep your company's IT running at peak performance you need the confidence that someone is managing what goes on in the background as well as problem solving day to day network and software issues.
If your IT system fails, the productivity of your company is reduced considerably. Our Managed Solution includes maintenance of your email, file sharing structure, security, permissions, Network support, online Server support and user base.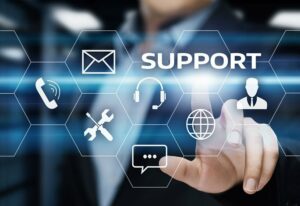 Users have access to our telephone and email helpdesk system where we help to resolve any issues they may have with their Workstation or Microsoft Software. Using our secure remote desktop assistance we can normally fix the problem without the need for a site visit getting you back up and running in the quickest possible time.
Our support hours are Monday to Friday 08:30-17:00, excluding public holidays. Out of working hours contracts are also available. Site support is a remote service it does not cover any onsite time.